纸护角器又称纸包角或护角板、包边板、角纸、纸角钢,是由纱筒纸和牛卡纸经整套护角器制成。两端光滑平整,无明显毛刺,相互垂直,可100%替代木材回收。是一种理想的新型绿色包装材料。
Paper corner protector, also known as paper wrapped corner or corner protection board, edge protection board, Corner paper and paper angle steel, is made of bobbin paper and kraft cardboard through a complete set of corner protector. Both ends are smooth and flat, without obvious burrs, perpendicular to each other, and can be 100% recycled instead of wood. It is an ideal new green packaging material.
折弯纸护角是由牛卡纸和多层筒管纸通过多道辊压胶合而成。护角成90度角,边有等边和不等边。方法如下 全包半包,表面光滑平整,无明显毛刺。外观主要有L型和U型,完全ROHS环境物质控制标准。它是一种绿色包装材料,可以100%替代木材进行回收利用。
The angle protector of bending paper is made of kraft linerboard and multi-layer bobbin paper by multi roller pressing. The angle protector has a 90 degree angle, and the edges have equal and unequal edges. The method is as follows: full package and half package, with smooth and flat surface and no obvious burr. The appearance is mainly L-shaped and U-shaped, which fully meets the ROHS environmental substance control standard. It is a green packaging material, which can be 100% recycled instead of wood.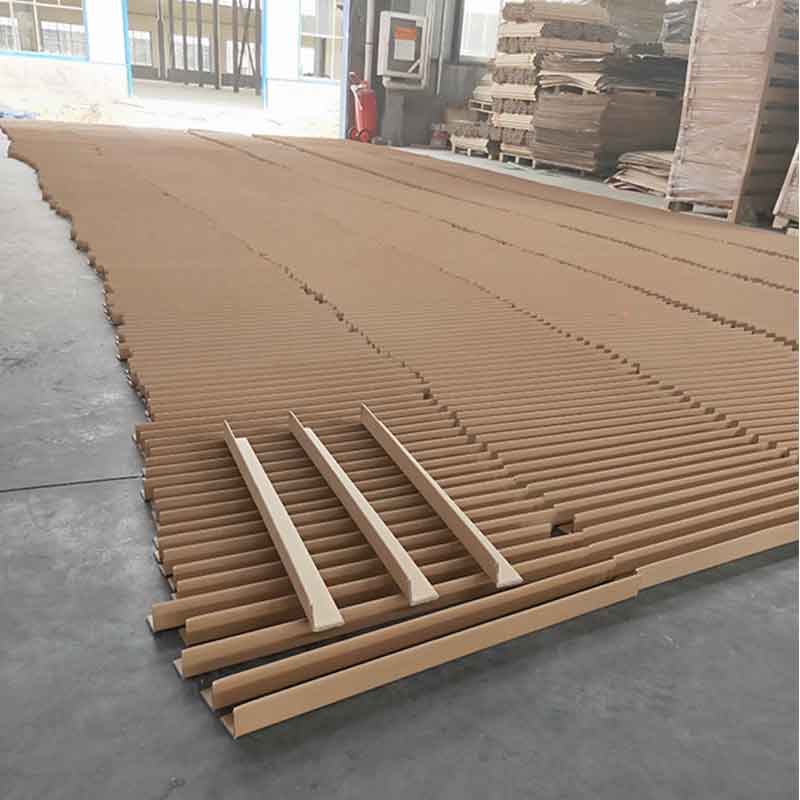 弯曲纸护角器有多种尺寸。护角宽度从30mm到100mm,厚度从2.5mm到8mm。长度可根据要求任意剪裁,也可根据客户要求冲压成各种形状。打印标志。
Curved paper corner protectors are available in a variety of sizes. The width of corner protection is from 30mm to 100mm and the thickness is from 2.5mm to 8mm. The length can be arbitrarily cut according to requirements, and can also be stamped into various shapes according to customer requirements. Print flags.
折弯纸护角器与托盘配合使用,加强托盘整体包装,防止货物倾斜、倒塌;当折弯纸护角器放置在纸箱外侧进行包装时,它可以保护纸箱不被捆扎带破坏。加强纸箱边角强度,将弯曲的纸角放在纸箱内角处,可以增强纸箱的堆码强度,使包装更牢固。
The bending paper corner protector is used together with the tray to strengthen the overall packaging of the tray and prevent the goods from tilting and collapsing; When the bending paper corner protector is placed on the outside of the carton for packaging, it can protect the carton from being damaged by the binding belt. Strengthening the strength of the edges and corners of the carton and placing the curved paper corners at the inner corners of the carton can enhance the stacking strength of the carton and make the packaging more firm.
纸护角的主要买家为建筑业、铝业、钢铁业等金属行业,以及制砖业、糖果业、冷冻食品、日用品、家电、化工、医药、电脑等行业。以及其他高科技产品等等,这是因为这些产品有大量的表面和角落需要保护。此外,纸角还可以用于水果的运输,不仅可以起到保护作用,还可以在运输过程中为货物通风。也广泛应用于航空、仓储、物流等出口集装箱。
The main buyers of paper corner guards are metal industries such as construction industry, aluminum industry and steel industry, as well as brick industry, candy industry, frozen food, daily necessities, household appliances, chemical industry, medicine, computer and other industries. And other high-tech products, etc. This is because these products have a large number of surfaces and corners that need to be protected. In addition, the paper corner can also be used for the transportation of fruits, which can not only play a protective role, but also ventilate the goods during transportation. It is also widely used in export containers such as aviation, warehousing and logistics centers.
The wonderful contents of this article are provided by the paper corner protector manufacturer. There are many wonderful contents on this website. You can click to enter more contents: https://www.shuangfengbaozhuang.cn We have special customer service to answer your questions